So you're living in Cambridge, are you?
Here's some need-to-know info about your new home...
What do you need to bring?
You can find a handy list of what we provide and what we recommend you bring here.
How do I get there?
You can find travel directions here.
Where can I do my laundry?
You will find card-operated machines and dryers on the third floor. Cards cost £2 and can be topped up online or at a machine.
Do I have a cleaner?
A cleaner will come to tidy the communal areas once a week (but be aware they will not clean if the surfaces are messy, so try and keep things clutter-free!) and you're in charge of keeping your bedroom clean. Good luck, friend. You can do it. We believe in you.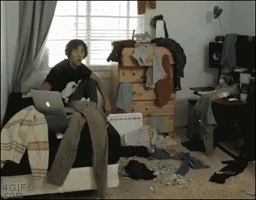 Where do I pick up my post?
There are post boxes located in the communal entrance of each accommodation entrance, where you can collect your mail yourself. Large parcels can be collected from Cambridge North reception, and ID will be needed.
What's my new address?
Cambridge Hall of Residence (South), 62 Cavendish Street, Manchester, M15 6UU
Cambridge Hall of Residence (North), 41 Cavendish Street, Manchester, M15 6TT
How do I report maintenance jobs?
Please report any maintenance issues to allsaintlicingcsa@mmu.ac.uk. If it's an emergency (gas leak, water or power outage etc) please go directly to reception or call 0161 247 1400
Get your bearings in the first few weeks by finding your nearest...
Supermarket: Asda (M15 5AS)
Pub/bar: The Salutation, Footage or MMU Union Bar
Coffee fix: There's loads of choice down Oxford Road, as well as the cafes in each of our academic buildings!
Workout: Manchester Aquatics Centre, The Sugden Centre
Doctors: Arch Medical Practice (M15 5TJ)
Don't forget, you can get to know your new flatmates before you arrive by joining your halls Facebook group.